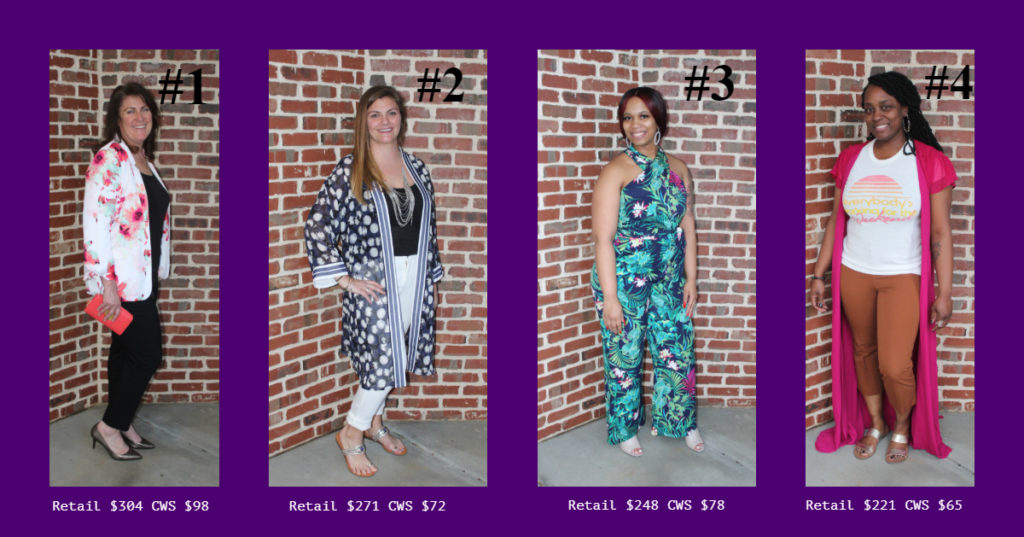 VOTE for your favorite outfit! Help one of our shoppers pictured below win their outfit for free! Comment below with #1, 2, 3 or 4 to tell us your favorite outfit and help us select a winner! Share with your friends!
Shop with us through Sunday for 65-90% off on over 7,000 items of new (with tags), overstock, women's clothing, shoes and handbags including these great items! Hours:Th & F 11a-8p, Sat 9a-8p, Sun Noon-7p. 8505 Davis Lake Parkway Charlotte, NC 28269 Click for directions: http://charlottewarehousesale.com/contact-us/
A huge thank you to Kourtney Scott with EZ Styles & Melissa Thompson, who helped our shoppers select their outfits and thank you to Laura Moody, Stephanie Mclane, Shania Ross & Jacqueline Richardson for participating! The winner will be chosen on Saturday evening.
You can also vote @
https://www.instagram.com/cltwhsale/ & https://www.facebook.com/CharlotteWarehouseSale/
Outfit #1:
Calvin Klein blazer & Camisole Orig. Retail: $161, CWS: $47
Style & Co. pants Orig. Retail: $33, CWS: $12
Calvin Klein shoes Orig. Retail: $110, CWS: $39
Outfit #2:
Loft Black tank Orig. Retail: $42.50, CWS: $12
Vintage American jeans Orig. Retail: $69.50, CWS: $15
Alfani Sheer Long jacket Orig. Retail: $89.50, CWS: $20
INC shoes Orig. Retail: $69.50, CWS: $25
Outfit #3:
Tahari dress Orig. Retail: $138, CWS: $39
Calvin Klein shoes Orig. Retail: $110, CWS: $39
Outfit #4:
Junk Food t-shirt Orig. Retail: $39, CWS: $12
Alfani pants Orig. Retail: $59, CWS: $15
Eva Mendes dress Orig. Retail: $73, CWS: $20
J Cres shoes Orig. Retail: $50, CWS: $18